It was a "God's Good Year"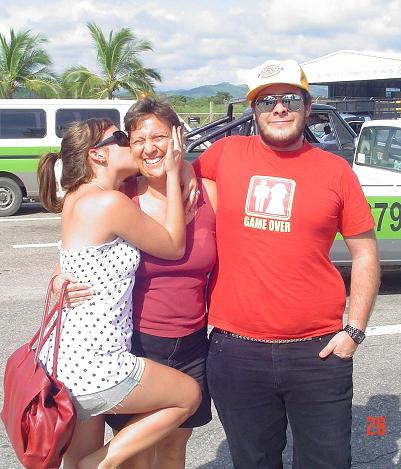 2006
We are enjoying having our two young adults that we used to call our children home with us for Christmas this year. Its great to see them stretching into adult life and facing the challenges of their future and who to walk it out with. Joshua is looking at going back to Australia in January to finish off his last year of college before returning in December 2007. Melinda is now manager/owner of our Christian bookstore at the church and is planning a trip to Brazil to learn Portuguese and to visit the daughter of the first missionaries that we worked with in Acatlan when we came 17 years ago.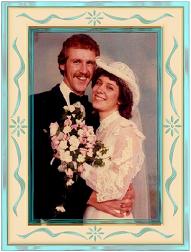 We also enjoyed having Pastor David Kalamen come down here to do our 25th wedding anniversary. He ministered into our lives and the churches lives in so many ways, prophesying into our future as a body of believers. Our anniversary celebration was a full-blown wedding where I sang a solo to Angela as she walked down the aisle with Joshua. The nice thing in Mexico is that they use a system of God-fathers where different people sponsor different parts of the costs of the wedding, so the wedding didn't cost us anything. Joshua and Melinda also sang several songs as we enjoyed the fellowship with over 400 of our spiritual sons and daughters here in Mexico. It was an honour to have Pastor Dave do our wedding especially since 25 years ago his father Arnold Kalamen did our first wedding. Maybe in 25 years Brodie will be doing our 50th anniversary. Different God-fathers also gave money towards a second honeymoon so we're looking forward to taking it in Cuba this next year, possibly with Pastor Dave to minister to the churches that KCC has sowed into over the years.
THANK YOU PASTOR DAVE AND THE KCC MISSION'S BOARD FOR YOUR LOVE AND YOUR SACRIFICIAL GIFTS TO GOD'S WORK HERE IN LATIN AMERICA.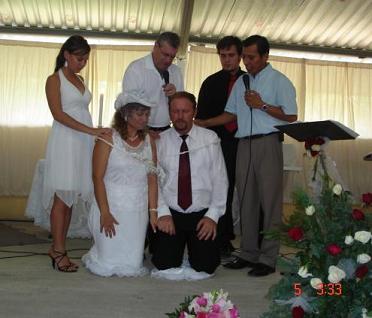 To see a video clip of our 25th Wedding Anniversary click here
Angela and myself along with Melinda went to the Hillsong Conference in Australia this last July as well. I can't express my gratitude to God for the opportunity to participate in and see what and how God is moving His body in such dynamic ways. We learned so much as we sat down and talked with several different pastors and leaders as well as the Bible school directors. We also had the opportunity to attend several services in their different churches. It was a bit cold for us down under as it got down to 0 Celsius at night time, but we survived the cold with jackets and sweaters. I'm not sure that I'm called to be in a plane for 14 hours at a time though, its a small space when you're in the economy section of the plane and its not built for tall people that like to stretch their legs out. THANK YOU HILLSONG AND OUR NEW FRIENDS IN THE LORD FOR RECEIVING US WITH OPEN ARMS!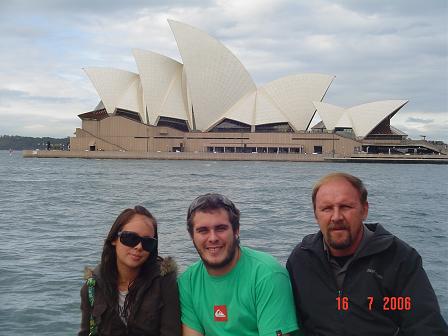 We also want to thank all of you in Canada and the USA that made a special effort of welcoming Joshua and Melinda into their homes and lives when they went up to Kelowna in October. It was the first time they had been to Canada as adults and were able to work in the Canadian workplace. As well it was the first time getting around Kelowna without dad & mom and being able to visit with their relatives. They really enjoyed their time with you all and the opportunity to get to know so many of you on a personal basis.
We look forward to coming to Kelowna in July for the 25th anniversary celebration of Kelowna Christian Center. We'll be up for a coupl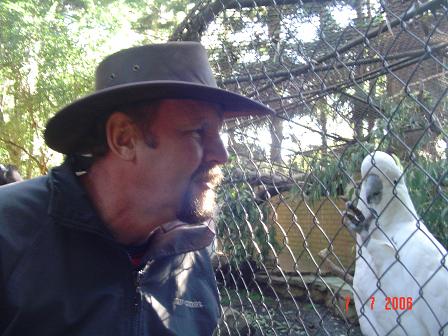 e of weeks, maybe even with the girls from the 1st generation of our Vocational Institute as they are saving every penny they make in their pizza business. They are so grateful for how by faith you all sowed into their lives, believing that God would perform miracles in their lives. They want to say thank you in person and honour all of you. If you are interested in going to the anniversary celebrations just check out the KCC.NET website for information. We'll be sharing at the anniversary honouring God for all His goodness and kindness that He has ministered to us through our loving body of believers at KCC. We're looking forward to seeing old friends that have sown into our lives and the ministry here as well as visiting with our fellow-workers, pastors and missions leaders.
Our desire is that you all have a great Christmas Season of Unconditional Love and Joy guiding and filling your lives as well as a prosperous new year in the Lord Jesus Christ.
Love John & Angela Nickel
Joshua & Melinda