Stepping Out and Beyond
We are excited as we see the year taking shape before us with Joshua finishing his last year at Hillsong Australia, Melinda possibly getting married, Angela & myself going to Cuba and to the KCC 25th anniversary celebration with our Pastor David Kalamen and of course lots of ministry planned down here in Mexico, as others c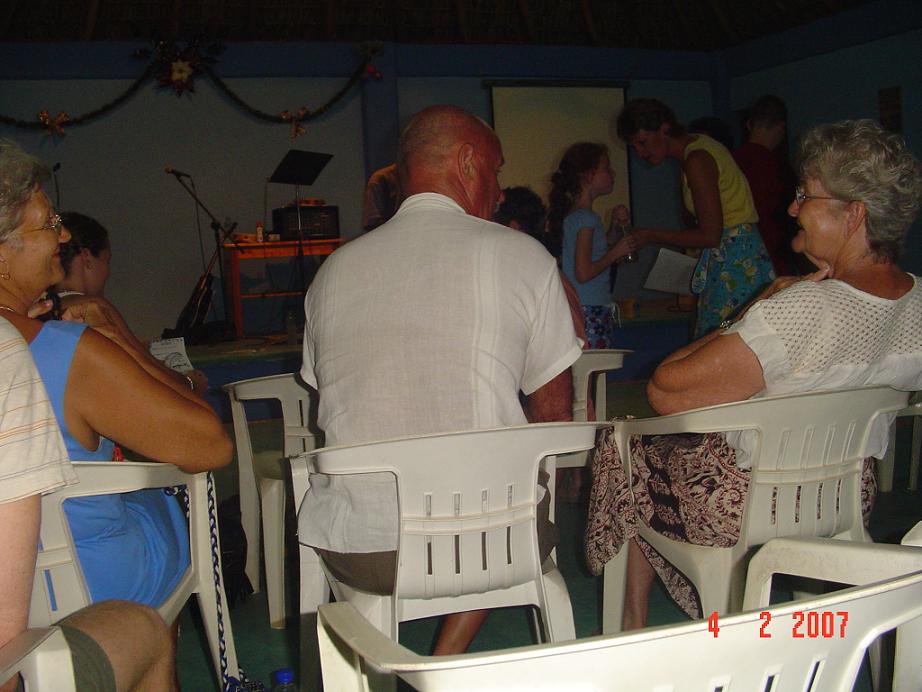 ome and join with us in a labour of love for the Mexican people down here.
English church in Mexico?!
Yes this coming Sunday we started an English church on the Zicatela Beach strip. This is a completely new venture into unmapped territory for us. We have a pastor and his family, Tim & Jackie and their 4 children, that are here on a 3 month sabbatical from their Toronto church. They are spearheading the church plant project along with Teresa and Salvador, who is co-pastor of our Zicatela Spanish church. It's exciting to see the team coming together for this new project. Also today a young lady Sandra who has traveled extensively in Canada, Europe and Asia is back with us to help us in the free English classes before the service, teaching Bible English through music.
Sunday School & Institute classrooms & living quarters for the young men.
Battered by hurricanes, termites and rain rot, as well as ministry growth from the Vocational Institute 2nd year program, God has forced us to push through a building program for our children in the Sunday School and the young people in the Vocational Institute. Pastor Tim & Jackie are bringing a team of 20 down from their Toronto area church in Canada that will be spearheading this project, but since it is a fairly large project we have been asked to open it up to others to participate in it, by either coming down and being part of the work team starting on March 7th or supporting it in a financial way. We have outlined the costs of the project below. If God puts it on your heart to participate in supporting one area of the project send us an email and make a deposit directly into our project account or for tax purposes donations can be made through our missions department at Kelowna Christian Center. Just send a note with the donation and send us an email telling us that its for the Mexico building project of John & Angela.
| | | | |
| --- | --- | --- | --- |
| Rebar 1/2 " | 2 tons | 1,100 per ton | $2,200.00 |
| Rebar 3/4 " | 1.26 tons | 1,100 per ton | $1,386.00 |
| Thick wire | 1000 kilos | 1.30 per kilo | $1,300.00 |
| Thin wire | 350 kilos | 1.4 per kilo | $490.00 |
| Cement | 30 tons | 190 per ton | $5,700.00 |
| Finishing plaster | 6 tons | 140 per ton | $840.00 |
| Gravel | 12 dump trucks | 130 per load | $1,560.00 |
| Sand | 10 dump trucks | 76 per load | $760.00 |
| Bricks | 13 blocks of 1000 | 215 per 1000 | $2,795.00 |
| Labour - 2 people | 15 weeks | 350 dollars per wk | $5,250.00 |
| Electrical wiring | | | $1,450.00 |
| Plumbing | | | $1,675.00 |
| | | Total Cdn $ | $25,406.00 |
Acapulco Outreach
We had a great outreach trip to Acapulco with our first year institute students, and as we tried different things out, God gave us wisdom and has opened up new ways for us to send in a Mexican team into a city for church planting reasons. We are excited about the opportunity to do that in April. The day I got back I received a phone call from a brother of our Pastor Servando who came here on Jan 1st to get baptized under our ministry. He wants to start a church under our ministry about 15 hours from here. We will be assisting him with messages by email and internet and sending a team up in April to work with him for 2 weeks and then in July for another 4 weeks. A team that will be able to cover its own costs by what they do up there and a direct result of the Vocational Institute program and the faith seeds sown into it by Pastor Dave and Kelowna Christian Center.